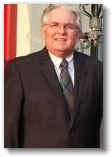 Randy Amos (website) has a wide ranging preaching, teaching, and writing ministry for the glory of the Lord Jesus Christ. He travels throughout the US, Canada, and sometimes farther afield and has been a great blessing to the people of God, persuading men everywhere of the truth of the gospel and of God's Holy Word. Randy and his wife, Sylvia, hail from Oregon.
---

Keith Keyser (website) was born & raised in southeastern Pennsylvania, brought up in a Christian home and converted at age 7 through a knowledge of his sinfulness and Christ's sufficiency to save. His gift of teaching was discovered and developed in the local assembly in Gilbertsville, PA where he continues to fellowship.
Keith left secular employment to give all of his time to the Lord's service beginning in 1999. He is mainly engaged in an itinerant Bible teaching and gospel preaching ministry throughout North America, western Europe, and Asia. He also writes various articles on the Scriptures for Christian publications, and produces articles and a podcast available on his own website.
Married to Naomi since 2005, they have been blessed with four children. Whenever possible, they join Keith in traveling amongst God's people.
---

Larry Price (website) was gloriously saved while in prison. The Lord saw fit to draw Larry to himself during that time of trouble and then to use him to help build up His kindgom through a preachng and teaching ministry to his saints. You can hear an audio version of Larry's testimony for more information.
Larry resides in Florida with his wife, Wanda.
---

Henry Sardiña was saved while in a Bahamian prison cell and called into the work of the Lord as evangelist, preacher and teacher. Henry and his wife, Lisa, reside in Florida and travel all over the US for the glory of the Lord Jesus Christ and to the benefit of God's people.